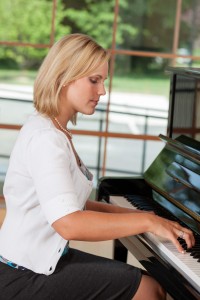 Thorncrest Music Academy offers piano lessons for beginners, intermediate or advanced students.
The piano program dedicated to beginners is designed to match the needs and preferences of each student regardless of the age or level.
The student will start learning the correct posture and hands position on the piano, followed by playing with hands separately and gradually using both hands together.
The repertoire chosen for piano classes will allow students to enjoy and play a variety of music styles, combined with developing the theory aspect of studying the instrument.
Later we will introduce scales, chords using repertoire ranging from popular to classical music.
Intermediate and advanced students may further develop their technical and reading skills as they learn how to interpret a variety of musical repertoire.
The adult student will be introduced to reading and playing basic chords, recognizing different sounds and improvise different melodies in a variety of music styles.

If you are interested to be enrolled in this music class please call us at 647-262-3109 or use the ONLINE FORM to schedule you first lesson today!