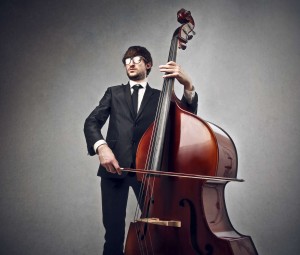 The bass lessons for beginners will be focused on the posture, how to properly hold the instrument and the correct hand placement on the instrument. The student will learn first how to pluck the strings with right hand instead of using the bow. Later they will learn how to use the bow, how much to press on each string in order to have a constant and clear sound. Other components of the lessons are basic music theory, intonation, rhythmic exercises, fingering.
The repertoire for beginners covers different styles, from popular, Irish fiddle to classical simple music. More advanced students will develop their technique and will be taught how to tune the instrument, how to play scales, arpeggios which will increase their agility, intonation and speed. They will also learn vibrato, play in different positions, use musical ornaments and special bowings like staccato or spiccato.

If you are interested to be enrolled in this music class please call us at 647-262-3109 or use the ONLINE FORM to schedule you first lesson today!